Broadcom BCM56170 Switch Chip
With a robust L2/L3 feature set tailored for modern enterprise networks, it's suitable for network aggregation such as SMB or campus networks requiring low latency and high-density backbone architectures with basic routing capability.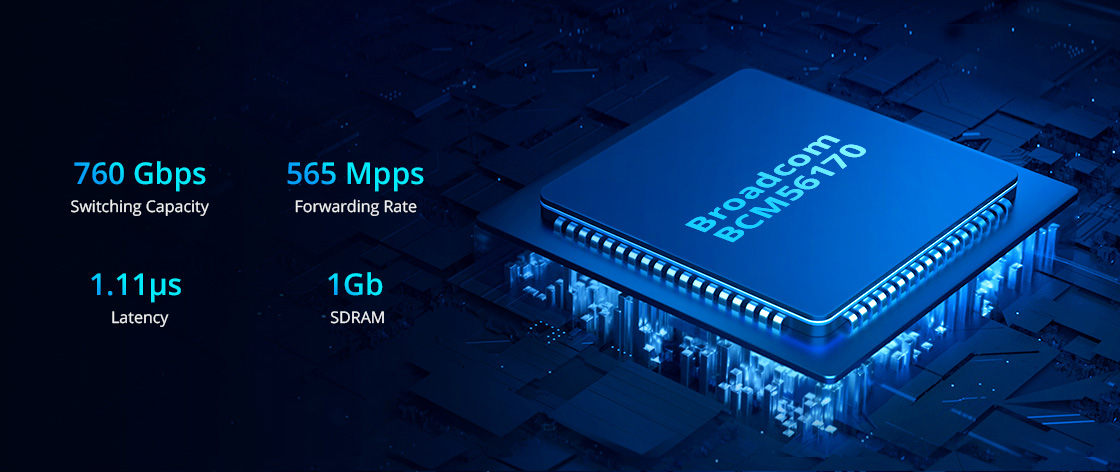 ---
Multi-speed Port for Physical Stacking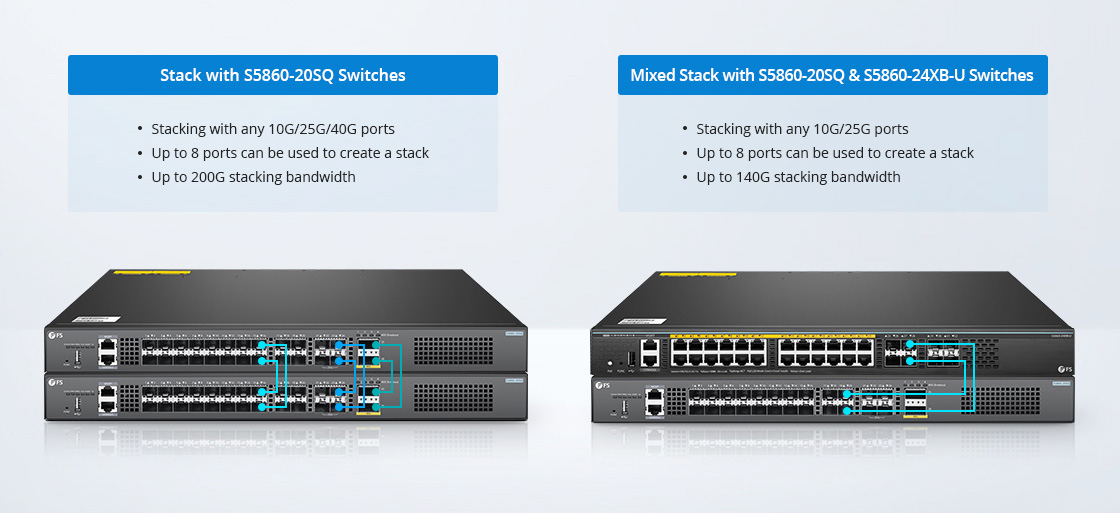 ---
1+1 Hot-Swappable Power Supplies and Dual Smart Fans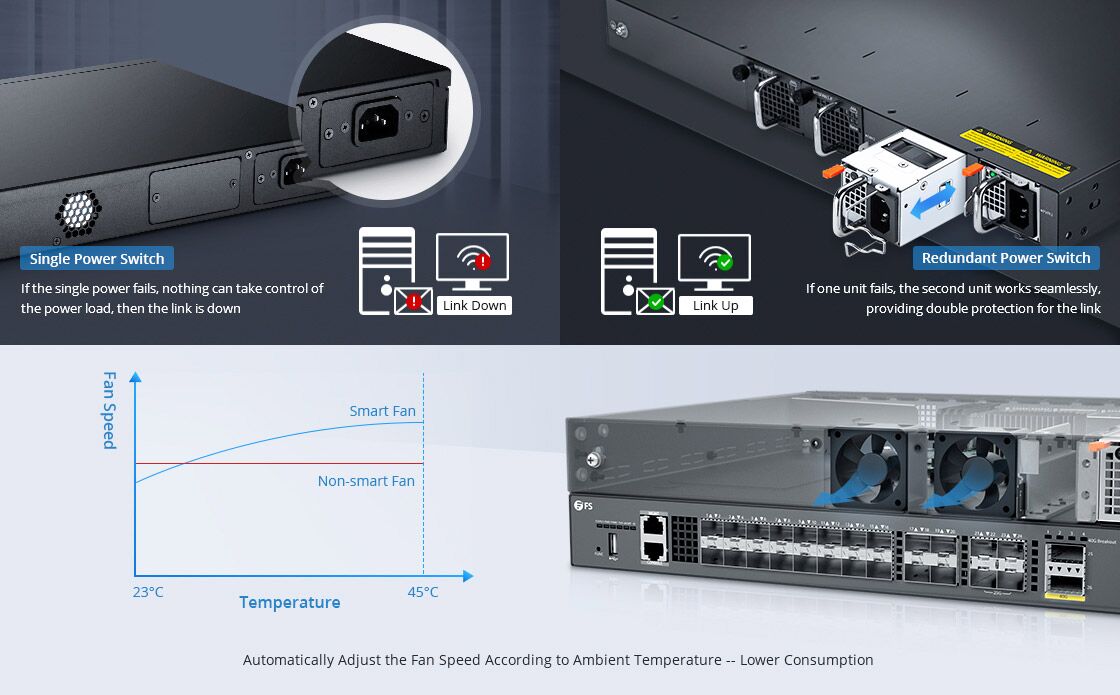 ---
IPv6 for Future Network Expansion
IPv4-to-IPv6 migration, no service interruptions. With full IPv6 features including Dual Stack IPv4/IPv6, DHCPv6, BGP4+ and more, it enables future network expansion for cost efficiency.

---
Easy Monitor and Quick Troubleshoot
Easy of management: Web, CLI
Diverse of monitor and maintain: SNMP, RMON, Syslog
Visual interface: System status at a glance
---
Use Zabbix to Monitor FS Switch via SNMP
Network performance
Network health
Configuration changes
---

S3410-24TS-P

S3410-48TS-P
24-Port Ethernet L3 Managed Switch, 20 x 10Gb SFP+, with 4 x 25Gb SFP28 and 2 x 40Gb QSFP+ Uplinks, Stackable Switch, Broadcom Chip

The S5860-20SQ 24-port 10Gb Ethernet layer 3 switch features 20x 1G/10G downlinks, 4x 10G/25G SFP28 and 2x 40G QSFP+(can be split into 4x 10G SFP+) uplinks that all support physical stacking. This managed enterprise switch adopts cutting-edge Broadcom chips to deliver 760 Gbps switching capacity and 565 Mpps forwarding rate. It is packed with redundant hot-swappable power supplies, dual hot-swappable smart fans and hardware-level dual-flash chip for superior processing performance and network reliability. FS agile S5860-20SQ managed switch is ideal for large-scale campus network aggregations, small and medium-sized network cores to meet the needs of high-speed, safe, intelligent enterprise networks. Also, this cost-effective campus network switch comes with an industry-leading 5-year limited lifetime warranty and 30-day return policy.
Product Specifications
| | | | |
| --- | --- | --- | --- |
| Ports | 20x 1G/10G SFP+ | 4x 10G/25G, 2x 40G | Stacking | Support |
| Switching Capacity | 760 Gbps | Multicast Routing Scale | 2,000 |
| Forwarding Rate | 565 Mpps | Total Number of IPv4/IPv6 Routes | 16,000 |
| SDRAM | 1GB | Number of VLANs | 4,000 |
| Flash Memory | 1GB | MAC Address | 32,000 |
| MTBF | >366,000 Hours | Jumbo Frame | 9,216 |
| Hot-swappable Power Supplies | 1+1 Redundancy (100-240VAC) | ARP Table | 16,000 |
| Airflow | Front-to-Back | Warranty | 5 Years |
---
Product Spotlights
IPv4/IPv6 Dual-Stack Multi-Layer Switching

Support line-rate IPv4/IPv6 dual-stack multi-layer switching

Support RIP, OSPFv2, IS-ISv4, BGP4, static routing, RIPng, OSPFv3, ISISv6, and BGP4+

Supports IPv6 addressing, ICMPv6, Path MTU Discovery
Physical Stacking for Simplified Management

Up to 2 units stacking

Simplified network topology

Fault recovery within milliseconds

Hot swap without affecting normal operation of other devices
Sound Security Protection Policies

Support hardware-based IPv6 ACLs

Support hardware CPU protection mechanism

Support DHCP snooping

Support the Secure Shell (SSH) and SNMPv3

Support Network Foundation Protection Policy (NFPP)
High Reliability

Support the Spanning Tree Protocols (STPs)

Support Virtual Router Redundancy Protocol (VRRP)

Support Rapid Link Detection Protocol (RLDP)

Support Rapid Ethernet Uplink Protection Protocol (REUP)

Support Bidirectional Forwarding Detection (BFD)
QoS

Support classifying and controlling various flows

Support 802.1p, IP ToS, traffic filtering, SP, WRR

Support flow bandwidth control, forwarding priority, and other flow policies
Strong Multi-Service Support Capability

Support the IPv4 and IPv6 multicast functions

Support IGMP snooping, IGMP, MLD, PIM, MSDP

Support IGMP source port and source IP check function
Energy Efficiency

Hardware architecture to reduce energy consumption and noise

Variable-speed axial fans to intelligently control the fan speed
Easy Network Maintenance

Support SNMP (Managed by Zabbix), RMON, log and configuration backup

Support Syslog, CLI, Web-based management, Telnet, SSH, Openflow, Netconf
---
Related Products